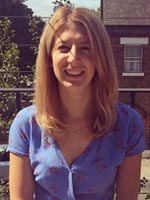 Sophie Bailey, Holistic Massage Therapist
Self-love isn't selfish!
London life is hectic, and finding precious time for yourself can feel impossible. My goal is to bring the fantastic effects of massage to the frazzled and achy people of London and beyond. I offer relaxing massage as well as remedial deep tissue massage, which targets  painful muscular tension. After years of suffering with daily muscle tension and stress, I found massage therapy to be an incredibly effective treatment, and I retrained as a holistic therapist. I completed my Practitioner Diploma in Holistic Massage with the Massage Training Institute (MTI), the UK's top training institute in Holistic Massage. Treating every client as an individual is of the highest importance, and each massage I give is personalised to your needs. So whether you have knotty shoulders, back pain or just need a blissful moment away from the kids, massage is the perfect way to show yourself some much-deserved love!
I am thrilled to have founded my business, Remedio Holistic Massage Therapy, at the lovely Bellissima Clinic.
Availabitlity: Sunday & Wednesday – 12pm-8pm
Prices:
Float Away Full Body Massage – 1 hour
£60
Lift Me Up Upper Body Massage – 30 mins
£35
Lift Me Up Upper Body Massage – 1 hour
£60
Deep Tissue Massage – 30 mins
£35
Deep Tissue Massage – 1 hour
£60
Runners massage – 30 mins
£35
Runners massage – 1 hour
£60
Express 20 mins massage
£22
Hands & Feet massage – 30 mins
£30
Digestive Massage – 30 mins
£35
Relax & Digest – 1 hour
£60
This treatment combines a 30 min digestive (abdominal) massage followed by a 30 min back, neck and shoulders massage.