Dr Baumann Skincare & Cosmetics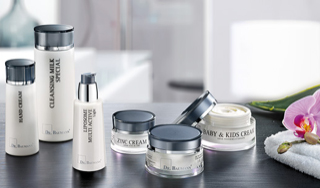 We love this range of skin care it's friendly to your skin and the environment too. We stock a broad range of Dr. Baumann products and are happy to help you find the right products for your skin type, call today or drop by our salon (just be Clapham South tube station) to book a consultation and discuss your treatment and product choices.
Free from all preservatives
Free from mineral oils
Free from animal substances – vegan
Does away with unnecessary waste: no additional packaging
Free from perfume, except for special products containing essential oils*
---
Facial Cleansing 
Gentle facial cleansers – the perfect preparation for the Dr Baumann treatments to follow. Facial cleansing products include;
Cleansing Milk – Suitable for all skin types and free from mineral oil, which gently and throughly cleanses without drying; great for eye makeup removal
Cleansing Milk Special – This mild cleansing emulsion is suitable for all skin types. It cleanses the skin exceptionally gently and the high concentration of nourishing ingredients such as skin-friendly oils, natural vitamin E and natural moisture dispensers care for the skin.
Facial Tonic Lotion -Removes traces of residue and supports the physiological pH value of the skin. It clears the skin and is pleasantly refreshing. After application of a Dr Baumann toner the skin is optimally prepared for the moisturiser or treatment to follow.
Facial Tonic Lotion Special – An exceptional toner, the special features and nourishing properties of which you will be able to appreciate from the first application. The high content of precious hyaluronic acid, provitamin B5 and other skin-friendly ingredients is apparent in the special consistency of this product. As with all Dr Baumann toners, it contains no alcohol.
Cleansing Gel – A mild cleansing gel which contains very gentle cleansing substances. For anyone who prefers a foaming cleanser or wants to gently remove oiliness from the skin.
Anti Comedo Lotion pH 4.8 – Alcoholic, watery lotion with acid pH of 4,8 for follow-up treatment for face after take out of pimples, optimal as well for treatment of other skin impurities.
---
Basic Care 
Documented effectives of skin-related multi-lamellar liposomes. These are applied after cleansing the skin, you should firs apply one of the following liposome multi active products so that the liposomes can transport moisture and active ingredients into the skin .Thereafter one should apply one of the skin creams appropriate to skin type. The liposome multi active products constitute Dr Baumann SkinIdent basic care and document the difference from other cosmetic products.
Liposome Multi Active Camomile -Contains evening primrose oil, jojoba oil, vitamins A and E, provitamin B5, hyaluronic acid, chamomile and a high concentration of multi-lamellar liposomes. These have a strong moisture-dispensing action in the skin. Active substances are taken up by the liposomes and transported into the skin. Chamomile calms the skin.
Liposome Multi Active E&C – Contains the same ingredients as the Liposome Multi Active Camomile,

 but instead of chamomile it contains particularly high concentrations of vitamins E and C. These vitamins protect the skin from environmental stressors such as UV-rays.

Liposome Multi Active Ceramid – In addition this product contains ceramides. The ceramides, together with the phospholipids of the liposomes, are important components of the intercellular substance between the skin cells, and display their effect in the upper layer of the skin. This strengthens the barrier function of the horny layer, which means a dry, flaky skin works much more effectively. Contains no essential oils, chamomile or tea tree oil.
Liposome Multi Active Light -The same ingredients and effect as the Liposome MultiActive with Ceramide, but also contains considerably less oil and fewer liposomes. This is ideal for oily skin, warm weather and to accustom the skin to the use of multilamellar liposomes.
Liposome Multi Active Super Cure – Contains highly effective multi-lamellar liposomes, nanosomes, ceramide, evening primrose oil, jojoba oil, vitamins A + E and provitamin B5. A deluxe product to meet high demands! Recommended if one wants to see what bionome skincare is capable of, or as a treatment.
Liposome Multi Active Essential – Contains extra high concentrations of the most important active ingredients. They have a very strong moisturising effect on the skin.
Active Care -The ultimate treatment for pimple prone, impure skin. It treats the skin efficiently with clearly measurable results in both the lower levels of the epidermis and on the skin's surface. Active Care contains valuable active ingredients in high concentrations such as tea tree oil, vitamin E, lecithin, zinc oxide and vitamin A. Active care must be applied over the entire face, directly onto clean skin. Regular application of this product will ensure a dramatic improvement of impure problem skin.
---
Facial Care
The optimal supplement for 'Basic Care'. To achieve the best success with Dr Baumann facial care, before applying an appropriate Dr Baumann cream, one of the liposome multi active products (see basic care) should be applied.
Sensitive Normal/Dry – A particularly compatible, light cream with jojoba oil, vitamin E, vitamin A, provitamin B5, urea and lactic acid. In the development of the sensitive products particularly compatible ingredients were used in order to minimise the risk of an incompatibility reaction.
Sensitive Couperose Skin – Contains the same ingredients as the other sensitive creams, but also contains horse chestnut extract. Ideal for treating reddened skin and couperose.
Intensive -A rich cream with a large amount of oils such as shea butter and jojoba oil. In addition it also contains vitamin E, vitamin A and provitamin B5. These are particularly important vitamins which protect the skin, nourish and assist in the skin's revitalisation.
Muti Vitamin Lotion -A special product with vitamins and herbal extracts for normal to dry skin prone to impurities.
---
Eye Care
The gentle treatment for the eye area
Eye Cream – A special cream for the skin around the eyes. A rich cream with jojoba oil, vitamin E, vitamin A and provitamin B5 for nourishing the delicate and dry skin in the eye area, to work against the formation of fine lines.
Eye Gel – A special cream for the skin around the eyes. A non-oily gel with ceramides, hyaluronic acid and vitamin E which deeply moisturises the skin around the eyes. Recommended for loss of elasticity. The non-oily consistency makes it an idea base for long-lasting eye makeup.


---
Body Care
A treated body is simply more attractive
Hand Cream – Hands cared for with Dr Baumann are more attractive and simply more beautiful! The hand cream protects stressed skin against drying cleansing substances and prevents premature ageing. It is immediately absorbed so directly after application you can hold paper without leaving an oily residue behind.
Body Lotion Super -Besides fine natural oils such as Shea Butter and jojoba oil this luxury product also contains natural vitamin E, ceramides and moisture dispensing hyaluronic acid in high concentrations. Ideal for use after showering and bathing.
Body Lotion – A body lotion without essential oils. A light but intensive product for the body. It spreads easily and is quickly absorbed. For dry, tight and itchy skin the intensive lotion or body lotion super should be used. If you would like a specific aroma on applying the body lotion, it can be mixed with one of our essential oils.


---

Baby & Child Care
Whoever wants to treat their offspring to just as high-quality bionome care as themselves will be excited about these products.
Baby & Kids Cream – A particularly mild product with gentle and protective active ingredients for delicate baby and child skin.
Baby Cleansing Lotion – A particularly mild cleansing for tender and delicate baby and child skin. Ideal in preparation for the baby & kids cream


---
Special Care 
Additional products to make your skin feel extra special
Zinc Cream – A specialised product to dry out and quickly heal blemishes.
Peeling Medium – Massaging with gentle exfoliating particles stimulate blood circulation without damaging the skin. The exfoliation of dead skin cells prevents blackheads and impurities and improves the effectiveness of skincare products.


---
Ampoules
Masks and ampoules play a special role in the Dr Baumann skincare system. Their high concentration of active ingredients, together with the liposome products, represent a sustainable and goal-oriented form of facial care which allows you to achieve an astounding improvement in your skin. Those in the know can now take a treatment begun by a cosmetician and continue it successfully at home. Your cosmetician will gladly give advice on the correct products for your skin type and their application.
This comprehensive range of concentrated active ingredients offers suitable care for every skin type. They can be used to optimise your regular skincare regime or as treatments for particular skin problems. The Dr Baumann ampoules can be hermetically sealed if desired after every application and provide an exact dose of valuable concentrated active ingredients.
Hyaluron – These ampoules contain the same active substances as the moisture ampoules, but in different concentrations. The high percentage of hyaluronic acid has an intense moisture-dispensing and tightening effect which makes these ampoules ideal for loss of elasticity and dry skin.
Vitamin E – These ampoules should always be applied to the delicate skin of the face and throat before sun bathing and using a sun bed. The addition of panthenol and urea makes these ampoules suitable for mature skin and skin types which are prone to pigmentation and sun allergies.
Vitamin A – Scientific studies indicate that the regular and consistent application of vitamin A can regenerate damaged skin cells and boost the skin's collagen concentration. UV-rays really dry out the skin this can be counterbalanced by the vitamin A and hyaluronic acid contained in these ampoules. This can work against the premature development of wrinkles. Ideal for use after being in the sun or sun bed or for prematurely aged, sun-damaged skin.
Herb Vital – The combination of basic, chamomile and summer savoury contained in these ampoules has a calming and soothing effect, recommended for dryness, impurities, redness and skin prone to blemishes.
Lecithin – Ideal for problems such as stubborn blackheads. Because lecithin positively influences the water balance in the horny layer of the skin, the skin becomes softer, roughness is smoothed out and blackheads are more easily removed. The macadamia nut oil contained in this product strengthens the effect of the lecithin.
After AHA Peeling – The active ingredients in these ampoules are lecithin and vitamin C. Very well suited to irritated, reddened skin e.g. after skin peels, to regenerate the skin's lipid barrier.


---
Face Masks
Facial masks pamper, relax and nourish the skin. The four Dr Baumann masks cover the individual requirements for intensive skincare. Their effect can be further improved by the prior application of an appropriate ampoule.
Liposome Mask – Regular application provides the skin with skin-related lipids and valuable active substances such as Aloe Vera, macadamia nut oil, vitamin A, natural vitamin E etc. The result of regular application is a visibly purer skin. The skin's moisture content is strongly enhanced, which works effectively against fine lines. Pimples and blackheads are disintegrated over time and impurities are slowly diminished. The complexion appears fresher, smoother and rosier and more attractive. The skin gains back freshness and resilience.
Aloe Vera Mask – The valuable ingredients in this gel-based mask work to calm and soothe stressed, irritated, reddened or impure skin. Aloe Vera has cooling, calming properties whilst medicinal herbs such as chamomile, basic, summer savoury and lavender make this mask ideal for use after sun bathing.
Dr Baumann also provide products such as; Essential Oil, Hair Care, Leg & Foot Care and Sun & Solarium.
* We do not have every product in stock; however please contact us and we can order in any products if requested