Dr Baumann Skin Care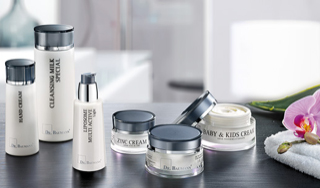 We love this range of skin care it's friendly to your skin and the environment too. We stock a broad range of Dr. Baumann products and are happy to help you fine the right products for your skin type, call today or drop by our salon (just be Clapham South tube station) to book a consultation and discuss your treatment and product choices.
Free from all preservatives
Free from mineral oils
Free from animal substances – vegan
Does away with unnecessary waste: no additional packaging
Free from perfume, except for special products containing essential oils*
* Essential oils are indicated on respective products in accordance with legal requirements
"Bionomy" is the science of the laws of life. These laws are the basis of the development and production of the Dr. Baumann skincare products. This means that on the one hand they take into account the metabolic processes in the human body and skin, and on the other hand they concern themselves with environmental aspects.
The principles of bionome skincare are:
Optimal compatibility through the application of dermatological and allergological knowledge in the choice of ingredients.
A targeted selection of ingredients whose effect has been described and documented and which are therefore beneficial to the skin.
A harmony between the ingredients and the skins physiology and anatomy. This is achieved when as many as possible of the ingredients are endemic to the skin e.g. which exist naturally in the skin.
Environmentally friendly through the avoidance of superfluous packaging.
Animal-friendly through the exclusion of animal substances.