Ear & Nose Piercing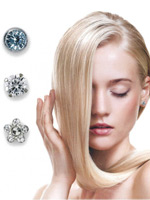 Team Member: Asia
We now offer all lobe and cartilage piercings using Studex System 75. They provide allergy-free fashion earrings for consumers of all ages (all hypoallergenic). Earring styles range from gold plated & stainless steel, 9ct gold & titanium.
We also provide nose piercing using the Medisept system of Studex allowing a safer and easier piercing method, using titanium nose studs.
All piercings include earrings/nose studs of your choice and an after piercing lotion.
---
Piercing FAQ's
When can I remove/change my lobe earring? After 6 weeks
When can I remove/change my cartilage earring? After 12 weeks
How is the piercing carried out? This is done using a gun along with pre-packed sterilised earrings to meet or exceed US FDA standards and EC European regulations
I have an allergy/sensitive skin, should I still get a piercing? Since some people are allergic to nickel, the EU nickel directive regulates how much nickel may be released onto the skin per week. For earrings, these are a maximum of 0.2 micrograms per square centimeter per week (i.e. 0.2 millionth of a gram). All Studex studs and earrings fall well below this allowable value and are thus nickel-safe and allergy free. In fact, all Studex studs and hoops are hypoallergenic, nickel-safe, lead-, cadmium- and cobalt-free.
Does it hurt? Everyone has different pain thresholds. However, the Studex 75 gun has been designed to give a virtually pain-free experience
Can children and babies get their ears pierced? Yes! This is designed for use on all ages from 3 months old. It is important children under 16 years old are accompanied by a parent/guardian over 18 years old
---
Procedure Time: 15-30 mins
Treatment Cost: £35-£50+
Often Booked With: Waxing
Aftercare: Cleaning using the aftercare lotion at least twice per day & do not remove for 6 weeks (lobe piercings), 12 weeks (cartilage & nose)
Back To Work: Immediately, with precautions
Frequency: N/A