Facials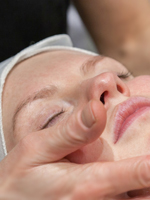 Facials can help restore the elasticity and rejuvenate your skin. leaving you feeling refreshed and relaxed with soft glowing skin. Come to see us for a free consultation and we'll help you choose the best treatment for you.
Dr Baumann Consultation and Deep Cleansing Facial
Dr. Baumann deep cleansing facial with liposomes including face, neck and shoulder massage.
60 mins £50
Dr Bauman lifting and Rejuvenating facial – £65
Dr Baumann Glycol Acid Peeling – £65
This treatment is recommended for acne scarring, pigmentation or blemishes. No chemical preservatives or fragrances are used. Eight treatments are recommended for optimal results. Come to see us for a consultation.
£75.00 per treatment includes ampoule of after AHA peeling for home use.
8 Treatment pack – £520.00 (1 treatment free)
We also offer CACI Facials >