Aesthetics
Enhance your look with non-surgical cosmetic procedures including anti-wrinkle injections and dermal fillers.
Botox
Botulinum Toxin (or Botox) works by relaxing the muscles underneath the skin resulting in the reduction of the lines and wrinkles on the surface of the skin.
Dermal fillers
Over time your skin loses collagen which supports the contours of your face. Dermal fillers, sometimes referred to as facial fillers, use hyaluronic acid to restore lost volume within the skin, reducing the lines on your face.
Dermapen
Dermapen microneedling triggers collagen production. It can be used to improve scarring, hyperpigmentation and stretch marks. Microneedling can also help with skin tightening and can be used on fine lines and wrinkles.
CACI
CACI technology creates a more youthful and fresh appearance, using microcurrent impulses to lift and tone the facial muscles and reduce the appearance of fine lines and wrinkles. Read more…
Call us today on 020 3674 1663 to discuss the best treatment options for you.
---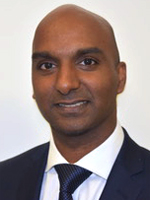 Dr Anand Raman
Specialist in Cosmetic Medicine
With over 10 years experience, Dr Raman has established himself as a leading specialist in Cosmetic Medicine. Dr Raman believes in subtle anti-aging medicine.
His aim is to help clients look fresh and rested, with an improved, yet natural-looking appearance. He believes in building honest and trusting relationships with his clients through consultations before any treatment.
Read more >