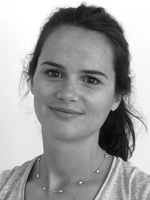 Sophie Turnbull – Acupuncturist, Naturopath & Tui Na Practitioner
MA (Cantab) | Dip Ac | Dip Nat | Dip Tui Na | BAHMA
My experience with Chinese Medicine began when, as a child, my mum took me for Acupuncture to help with insomnia and fatigue, with remarkable results. When I began experiencing similar problems in my early 20s I turned to Acupuncture again, and, amazed by its effectiveness I soon came to the decision to retrain.
Acupuncture involves the insertion of very fine needles into specific locations in the body in order to balance and regulate the flow of Blood and Qi. When Blood and Qi are blocked or deficient, pain and disease arise. Acupuncture aims to release blockages and stimulate flow to help the body heal itself.
I also practice Tui Na, an ancient Chinese form of massage, which is a brilliant alternative to Acupuncture for anyone unsure about needles. It is very effective in treating muscular aches, pains and strains as well as being extremely relaxing and therefore excellent for reducing stress and aiding sleep. I like to use Tui Na alongside Acupuncture for the best results, however, patients are welcome to book in for Tui Na only if they prefer.
Both Acupuncture and Tui Na treatments begin with a full Chinese Medical health consultation, along with diagnosis by tongue and pulse, followed by a completely bespoke treatment tailored to the needs of the patient on the day. I am also qualified to give naturopathic nutritional advice and I may suggest natural remedies or supplements and lifestyle changes to help support your treatment. My aim is to ensure every patient leaves feeling balanced and centred.
As a member of the British Acupuncture and Holistic Medicine Association (BAHMA), I abide by its Code of Ethics and Safe Practice and I am covered by full public indemnity and liability insurance.
For further information, please see my website
Availability: Please contact Sophie directly at [email protected] for availability.
| | |
| --- | --- |
| Massage (45 mins) | £65 |
| Acupuncture (Initial consultation and treatment – 1 Hour) | £65 |
| Acupuncture (Follow up treatments – 1 Hour) | £65 |
| Acupuncture (Follow up treatments – 45 mins) | £55 |
The Bellissima Clinic
Average rating:
0 reviews