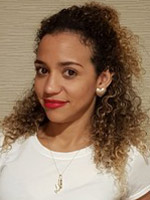 Rachel – Beauty Therapist
I have been doing Beauty for the past 4 years and I enjoyed every moment because I love helping people feel better about their appearance. I specialise in a wide range of treatment including Waxing, Eyebrows, Nails, Facial techniques. I worked in several salons and with different beauty therapists who helped me develop my personal beauty techniques. I enjoy spending time with different people and building relationships with them as well as finding the most suitable treatment for the customers.
I love fashion, has always been a passion of mine as it's important to me to learn about new styles and beauty. I particularly enjoy spending time with family especially with my little one & friends and keeping fit by dancing Cuban Salsa.