Clare Varchione – Managing Director and Therapist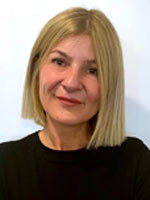 When starting my career in Beauty, I was adamant that I wanted to work in a more Holistic fashion offering a bespoke service that incorporated both beauty and a feeling of wellbeing. I therefore carefully selected elite products which mimic our skins natural restorative processes.
I opened Bellissima in February 2013 (after many years of working as a sole trader) with my daughter Nicole offering a small, friendly, family business with the mindset of providing beauty and hair services within a small, secure environment where customers could literally escape the hustle and bustle of everyday life and walk out of our salon looking good and feeling great
I offer a range of treatments including Lyon waxing, Dermapen and Caci non surgical face and body lifts. I'm a trained Cosmetologist in Facials using Dr Baumann which contains skin identical ingredients. I will only use products that respect your skin and do not include skin compromising ingredients. I also offer Glycolic peels, eye and brow treatments which range from CACI eye lift to brow shaping/tinting, lash tinting and LVL lashes.
My Client's experience at Bellissima is prevalent to me and the service we offer is second to none. My treatments and products offer a synergistic approach whilst still retaining their naturalness.
Availability: Monday, Wednesday, Friday, Saturday & Sunday
The Bellissima Clinic
Average rating:
2 reviews
Jul 28, 2018
Waxing
I've really struggled with waxing in the past but now I have found Bellissima I would not dream of going anywhere else. Clare makes waxing almost completely pain free and the results are always amazing-even with my very sensitive skin. Very highly recommended!
Jul 28, 2018
Best Waxes I've ever had
Clare is a fantastic therapist who delivers the best waxes I've ever had - I wouldn't dream of visiting anyone else now I know exactly what truly smooth and non-irritated skin feels and looks like. I wouldn't exactly say I look forward to being waxed (!) but as Clare is personable and fun, she makes what could be a painful experience a relaxing and enjoyable one - I can't recommend her highly enough.