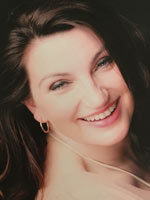 Anne McCarthy – Intuitive Therapist – EFT – Reiki
Hello and thank you in advance for dropping by!
Since becoming a Reiki and EFT practitioner, I can honestly say they have both changed my life. Let me help you change yours…
EFT ('Emotional Freedom Technique' also known as 'tapping') works on the acupressure meridians ie accupuncture without the needles! It taps into the unconscious mind trauma from long held beliefs, deep buried emotions and those from your childhood. We'll begin by talking about the issues you are facing then I will guide you through the tapping process, using your own fingertips on the meridian points while your mind reprograms, releasing old negative thought patterns.
EFT has personally helped me lose over 2 stone and keep it off and is highly effective at dealing with emotional issues including emotional eating. If you've just had an argument with your partner/colleague and feel torn what is the best way to deal with it, EFT will help you clarify why this situation has occurred and see if this is a repeating pattern you can break. Let me help you change and heal the emotional roller coaster…
Reiki is a Japanese technique that is great for releasing stress and anxiety, both physically and emotionally. Each session takes place fully clothed lying down on the couch. By laying hands on you, your chakra will be re-aligned and balanced. Any blockages will be removed as these can contribute to illnesses.
I personally suffered from headaches and chronic period pains which both totally disappeared after my first weekend of Reiki training. I've helped people overcome fears of the dentist, heights, chronic back and joint pains and insomnia. As my very butch firefighter brother puts it; 'I don't know what that Reiki thing is you do but send me more as it worked!'
This year I'm taking EFT to the next level by training in 'Matrix Reimprinting' which goes even deeper into past traumas. I'm also training to become a Louise Hay 'Heal Your Life' certified practitioner. I believe learning and growing as an individual never stops.
Let's live, love and laugh x
Prices:
| | |
| --- | --- |
| EFT (Emotional Freedom Technique) – 1 Session | £60 |
| EFT (Emotional Freedom Technique) – 3 Sessions | £165 |
| Reiki – 1 Session | £60 |
| Reiki – 3 Sessions | £165 |
The Bellissima Clinic
Average rating:
0 reviews